I think
I might be
transgender . . .
Now what do I do?
A brochure
for young people
questioning their gender identity.


This brochure was written by
R. Scott Gerdes, a transgender writer and
Debra Davis, an out transgender
High School Librarian and
Executive Director of the Gender Education Center, Maple Grove, Minnesota.




What does it mean to be transgender?

Transgender is a term used to describe anyone who bends or challenges "traditional" gender roles.

There are many kinds of differently gendered people, including gay and straight crossdressers, transsexuals, drag queens and kings, transgenderists, androgens, and gender benders of all sorts. Just as gay men and lesbians step over the line drawn by society's heterosexual norms by loving members of the same sex, transgender people transgress gender norms by wearing clothing not generally associated with their own gender (such as a biological male who likes to wear dresses). In some cases, transgender people modify their bodies through surgery or hormone treatment to be more like the "other" gender.

Freedom of Gender Expression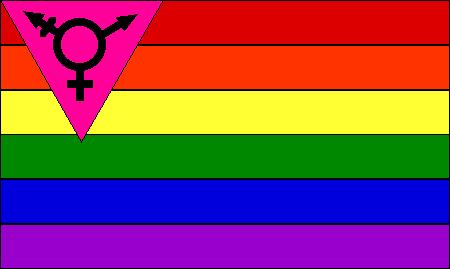 Am I a freak?
Absolutely not.

Transgender behavior is not a mental illness. It is a positive expression of your personality. To the estimated 1-5 percent of the population that are transgender, being a differently gendered person is very natural. The trick is to learn how to accept this very special aspect of yourself.





What is it like to be
young and transgender?


Transgender people are probably one of the most misunderstood minority groups in the world.

However, in many ancient Native American tribes transgender members were revered and celebrated. As with other minorities, fear and ignorance often foster prejudice against transgender people. Because of this, many transgender people don't allow themselves to freely express who they are, they don't talk about how they feel to anyone and often suffer from depression.


It's not easy to admit to yourself that you have "different" feelings about who you are and to come to terms with being transgender.

Looking in the mirror and asking yourself "what's wrong with me?" and "why do I feel so different from my friends?" is a scary moment. But it's also a very common and natural one for transgender people. We have all had to go through that frightening self-examination when we were wondering about our gender identity and where we fit in.


Unfortunately, some people make it very clear how they think about transgender individuals by using terrible jokes, hurtful stereotypes and rumors about transgender people.

There are those who hate anyone or any group that is "different." Not everyone, but many people feel uncomfortable about transgender people. It's easy to stay "in the closet," which is a painful and lonely place to be. But only you know how you feel. As you find out "who you are" the closet door will open, allowing you to walk out if you wish.





Why am I like this?


There are many theories, but no one knows for sure.

None of the theories have been proven. Some argue that transgender people are formed in childhood because of the way they were raised and others think that some kind of "miss communication" occurs between DNA, chromosomes and all that chemical stuff while the fetus is being formed in the womb. We really only know that your transgender feelings are natural and an extraordinary quality that makes you who you are. Nobody made you this way and nobody is to blame - especially you. Everyone is a special, unique individual.





Am I sick &
can I be "cured?"


No, you are not sick.

Healthy and secure transgender people will tell you there is no need to be "cured." The best advice we can give you is learn to accept and love yourself for who you are and don't beat yourself up for feeling different from others.





Who should I tell?


More and more transgender people are learning to feel better about themselves.

As you start to listen to your deepest feelings and learn more about what it means to be transgender, you will begin to feel more confident and more comfortable with your gender identity. This is the process known as "coming out."

The first step in coming out is to tell yourself that you are okay.

Having positive self esteem is very important. Later, you may want to tell someone else--someone you trust to be understanding and sympathetic. There will be people in your life who will accept and support you. But there are some people, including parents, who may not understand what it feels like to be transgender and are hard talk to. If your school has "Safe Staff" and you know and trust one of these adults, it might be a good place to start.

In the beginning, be cautious about who you tell. Listen to your gut.

A good place to start is to meet other young people who feel like you do. If your school has a GLBT support group, you could also start there.

It takes a lot of energy to deny your feelings and it can be costly.

You may have tried to use alcohol and other drugs to numb yourself against your thoughts. You may have considered suicide. There is help for you out there--people who understand and who want to help you live a healthy and happy life. A list of organizations for gay, lesbian, bisexual and transgender teens are within this brochure. When you are ready to tell family and friends, it's good to have a strong support group in your corner.





Does being transgender mean I'm gay or lesbian?


Your gender identity has nothing to do with your sexual orientation--that is, what sex you are physically attracted to.

Transgender people can be found in all walks of life - some are gay, some are bisexual, and some are straight. Some are married, some are not. We can be found in virtually every city, doing all types of jobs, and enjoying strong friendships and loving families.





How do I learn
to like myself?


Because transgenderism is often misunderstood and "T" people are an easy target for a very uninformed public, it's not surprising that many transgender people feel shame and guilt.

The best "treatment" is self-acceptance. Transgender people can - and indeed do - live happy, productive and well adjusted lives. It is important to be honest with yourself. Most people who accept their "real" gender identity say they feel calmer, happier and more confident. Again, getting involved with a support group will help you. You don't have to rush and you don't have to do this alone. It isn't easy, but it's worth the effort. No matter what people say, you are normal.





Can I be
discriminated against?


Gay, lesbian, bisexual and transgender people are protected under the law.

The Minnesota Human Rights Act (M.S. Chapter 363) protects the rights of transgender people. Minnesota is the first and only state in the United States to do so. In other words, like people of different races and religions, for example, transgender people cannot be refused jobs, housing, education and medical care based solely on their being transgender.





How do I find other
transgender people?


Remember that you are not alone, but you may find it easier and more comforting to read books first.

There are many books out there written by transgender people. Some of them are at the back of this brochure. You may not feel comfortable looking for these books at your school or public library. They can be found at gay and lesbian bookstores in the Twin Cities such as the Amazon Bookstore and A Brother's Touch and Quatrefoil Library.

If you are ready to talk to someone, try calling a help line.

Some are listed as well on the back of this brochure. They will let you talk about your feelings and will direct you to organizations that help transgender people and to support and social groups geared to the transgender community. Some metro area support groups are also listed here.





What about STI's and AIDS?


All sexually active people need to be aware of AIDS as well as other sexually transmitted infections.

Being transgender does not protect you from AIDS. Certain sexual practices and certain drug use behaviors can put you at risk for catching the virus that causes AIDS. AIDS is incurable, but is preventable.

To learn more to reduce your risk of Aids and other STIs, call:


AIDSLINE
612/373-2437




Books:


Body Guards, edited by J. Epstein & K. Straub

Changing Sex: Transsexualism, Technology and the Idea of Gender, Bernice L. Hausman

Feminizing Hormonal Therapy for the Transgendered, Sheila Kirk, MD

From Masculine to Feminine and All Points In Between, Jennifer Anne Stevens

Gender Outlaw: On Men, Women and the Rest of Us, Kate Bornstein

My Gender Workbook: A Guide (with exercises) to exploring the big G, Kate Bornstein

The Hero Within, Carol S. Pearson

Masculinizing Hormonal Therapy for the Transgendered, Sheila Kirk, MD

The Spirit & the Flesh, Walter L. Williams

Stone Butch Blues, Leslie Feinberg

Transformations: Crossdressers & Those Who Love Them, photographs by Maritte Pathy Allen

Transgender Warriors, Leslie Feinberg

The Uninvited Dilemma: A Question of Gender, Kim E. Stuart





GLBT Organizations
That Can Help


National Gay and Lesbian Hotline
They will listen and talk to you about transgender issues.
1-800/221-7044

Out For Good
Support Services for GLBT Students, Staff & Parents.
Minneapolis Public Schools, Student Services
807 N.E.Broadway-Minneapolis, MN 55413
612/870-8536

Out for Equity
Support Services for GLBT Students, Staff & Parents.
St Paul Public Schools
1930 Como Ave. St. Paul, MN 55108
651/339-9956

District 202, (GLBT Youth Center)
A safe haven for GLBTQ youth.
1601 Nicollet Ave. S. Mpls, MN 55404
612/871-5559

Gay, Lesbian, Bisexual, & Transgender Program's Office (GLBT Program's Office)

For the U of M community (students, staff and faculty)
300 Washington St. S.E. - 340 Coffman Union
Minneapolis, MN 55455
612/625-6042 E-Mail: glbt @ maroon.tc.umn.edu

P-FLAG - Parents, Family, Friends of Lesbians & Gays
Support group for GLBT parents, families & friends
P.O. Box 8588 Minneapolis, MN 55408
612/825-1660

International Foundation for Gender Education, (IFGE)
A 1,000-member international organization providing public education on cross-dressing, transsexuality, and transgender issues. Publishes Transgender Tapestry Magazine
617/899-2212


Gender Education Center (GEC)

Education, outreach & support service providing resource information, presentations, workshops, training and consulting on transgender issues.
P.O. Box 1861 Maple Grove, MN 55311
763/424-5445




This Brochure was produced by:


G ENDER EDUCATION CENTER
P.O. Box 1861
Maple Grove, MN 55311
763/424-5445



A Minnesota non-profit corporation
dedicated to transgender support,
advocacy and education.






Funded in part by grants from
Philanthrofund Foundation, Headwaters Foundation,
Cooperating Fund Drive, gifts, honorariums
and individual donations.

©8/99